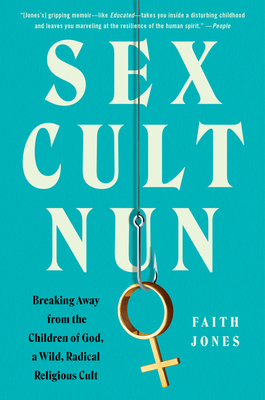 Sex Cult Nun: Breaking Away from the Children of God, a Wild, Radical Religious Cult
Publication Date:
November 8th, 2022
Publisher:
William Morrow Paperbacks
Usually Arrives Within 7-10 Days
Sex Cult Nun offers a shocking glimpse into the Children of God cult from its founder's granddaughter. In a shocking yet hopeful memoir, Jones details her journey to leaving the world she knows to find agency and her dreams.
December 2021 Indie Next List
Description
Named a Best Book of 2021 by Newsweek and Recommended by People, TIME, USA Today, Real Simple, Glamour, Nylon, Bustle, Purewow, Shondaland, and more!
Educated meets The Vow in this story of liberation and self-empowerment—an inspiring and stranger-than-fiction memoir of growing up in and breaking free from the Children of God, an oppressive, extremist religious cult.
Faith Jones was raised to be part of a religious army preparing for the End Times. Growing up on an isolated farm in Macau, she prayed for hours every day and read letters of prophecy written by her grandfather, the founder of the Children of God. Tens of thousands of members strong, the cult followers looked to Faith's grandfather as their guiding light. As such, Faith was celebrated as special and then punished doubly to remind her that she was not.
Over decades, the Children of God grew into an international organization that became notorious for its alarming sex practices and allegations of abuse and exploitation. But with indomitable grit, Faith survived, creating a world of her own—pilfering books and teaching herself high school curriculum. Finally, at age twenty-three, thirsting for knowledge and freedom, she broke away, leaving behind everything she knew to forge her own path in America.
Honest, eye-opening, uplifting, and intensely affecting, Sex Cult Nun is a complicated family story mixed with an intimate coming-of-age narrative that brings to life a hidden world that's hypnotically alien yet unexpectedly relatable. 
Praise for Sex Cult Nun: Breaking Away from the Children of God, a Wild, Radical Religious Cult
"[Jones's] gripping memoir—like Educated—takes you inside a disturbing childhood and leaves you marveling at the resilience of the human spirit." — People
"Jones bridges entertainment and empathy by penning a page-turning memoir that is not just a fascinating and heartbreaking look at life inside a cult, but ultimately an empowering story of resilience." — USA Today (four stars)
"The no-holds-barred story of growing up in an extremist religious cult preparing for the end of days is hard to put down from its very first sentence. Jones brings us along as she tries to navigate a world few of us can imagine while contending with the conflicts of love, loyalty and growing up." — Newsweek
"The author's absorbing, meticulously detailed description of her early life with her eight siblings in Macau, and later episodes in Thailand, Hong Kong, the US, and Kazakhstan, recall both The Glass Castle and Educated. The extreme poverty, hard work, and over-the-top physical punishment are balanced by a child's-eye view of a fascinating, unfamiliar world…It is engrossing and well-crafted; it is shocking and at times, salacious; it is also seriously important." — Washington Post
"Both inspiring and disturbing, Sex Cult Nun unravels Jones' complicated upbringing, the trauma she endured as a result and her eventual path to liberation." — Time
"In this outstanding debut, Jones recounts her upbringing in and escape from the infamous cult, the Children of God… As Jones transports readers from Macau to Kazakhstan to the United States, Jones skillfully provides the mental framework to understand her past as an indoctrinated individual in hopes of helping others 'stand up for themselves.' This remarkable account of self-liberation is not to be missed." — Publishers Weekly (starred review)
"Jones...tells her harrowing story in a brisk present-tense voice, lending her recollections a sense of disturbing immediacy...in this powerful book." — San Francisco Chronicle
"It is an extraordinary book, chilling in its account of delusion and depravity, but also inspiring." — The Daily Telegraph
"Jones not only shined a marvelous light on the criminally destructive nature of religious cults but how the effects of abuse and mind control permeated every aspect of the followers' lives. Sex Cult Nun also provides a narrative of triumph that one could escape an egregious cult and create an authentic life free from abuse. As Faith Jones has done for herself, may her life story be a testament to the power of determination and the quest for freedom at all costs."  — San Francisco Book Review
"[A]n exceptional debut… A must-read memoir of self-discovery and reinvention that readers will find impossible to put down. Pass along to fans of Tara Westover's Educated." — Library Journal (starred review)
"[A]n absolute must-read." — Bitch Magazine
"Faith Jones's memoir of growing up in the Children of God religious cult is shocking and, ultimately, life-affirming…. An eye-opening account sure to please those who love a good cult book or just a good memoir." — Booklist
"Complex and richly detailed, the book provides fascinating insights into a secretive religious organization while offering often heartbreaking details about the nature and repercussions of growing up indoctrinated in a cult. A powerful and disturbing memoir." — Kirkus Reviews
"Sex Cult Nun is an unflinching often heart-wrenching and thrilling reckoning with a childhood shaped by a notorious cult, and the story of how Jones came through fire to make sense of it all." — Lauren Hough, New York Times bestselling author of Leaving Isn't the Hardest Thing
"Startlingly honest and hard to put down, Faith Jones's memoir is proof that your past needn't define you and that anything is survivable." — Wendy Lawless, New York Times bestselling author of Chanel Bonfire
"Faith Jones offers a powerful memoir full of childhood joy yet rooted within a world where abuse is rampant and happiness cannot last. An accessible story about a woman who liberates herself from the binds of an abusive, patriarchal cult, Sex Cult Nun will keep readers turning pages." — Donna Freitas, author of Consent
"In this moving memoir of her childhood, Faith Jones recalls growing up in a religious cult…. Harrowing, but also fierce and inspiring." — CrimeReads
"A fascinating read for anyone interested in cults and how they operate." — The Globe and Mail