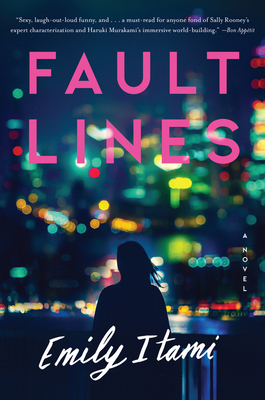 Fault Lines: A Novel
Publication Date:
September 6th, 2022
Usually Arrives Within 7-10 Days
Emily Itami has given us an incredibly engaging, hilarious, and relatable narrator in Mizuki as she navigates the fault lines in her marriage, in her past, and within herself.
September 2021 Indie Next List
Description
SHORTLISTED FOR THE COSTA FIRST NOVEL AWARD
"What is the cost of a mother's desire?...Emily Itami explores this question with wit and poignancy." -- New York Times Book Review
"The perfect marriage of Sally Rooney and early Murakami." -- Kathy Wang, author of Impostor Syndrome
Mizuki is a Japanese housewife. She has a hardworking husband, two adorable children, and a beautiful Tokyo apartment. It's everything a woman could want, yet sometimes she wonders whether she would rather throw herself off the high-rise balcony than spend another evening not talking to her husband and hanging up laundry.
Then, one rainy night, she meets Kiyoshi, a successful restaurateur. In him, she rediscovers freedom, friendship, and the neon, electric pulse of the city she has always loved. But the further she falls into their relationship, the clearer it becomes that she is living two lives—and in the end, we can choose only one.
Funny, provocative, and startlingly honest, Fault Lines is for anyone who has ever looked in the mirror and asked, who am I and how did I get here? A bittersweet love story and a piercing portrait of female identity, it introduces Emily Itami as a debut novelist with astounding resonance and wit.
Praise for Fault Lines: A Novel
"What's intriguing about Fault Lines is its shrewd commentary on Japan's societal expectations of women as either sex objects or dutiful mothers. As Mizuki eventually learns, it's in striking a workable balance between these two dichotomies — her past life versus her present one, titillating desire versus familial obligations, who she wants to be versus who society dictates she should be — that the real work of living begins." — Washington Post
"A complicated romance with immense empathy for all its characters and their flaws [and] a wonderfully nuanced take on Tokyo life." — Popsugar
"Sharp and stunning." — New York Post
"This remarkably strong debut has volumes to say about choices, adulthood, tradition and freedom." — Ms. magazine
"Wanderlust warning! Itami's dreamy debut will have you craving a trip to Tokyo." — E! Online
"What is the cost of a mother's desire?...Emily Itami explores this question with wit and poignancy." — New York Times Book Review
"Sexy, laugh-out-loud funny, and full of prose as sumptuous as the meals described, Fault Lines is a must read for anyone fond of Sally Rooney's expert characterization and Haruki Murakami's immersive world-building." — Bon Appétit
"Mizuki is one of the most engaging adulteresses I've ever encountered, and a wonderfully witty guide to the morals and mores of contemporary Tokyo. I now know just how to behave while picking up children from school, or meeting strangers. Fault Lines is a moving and suspenseful novel full of the best kinds of incidental wisdom." — Margot Livesey, author of The Boy in the Field
"Fault Lines manages to be clever, wise, and heartbreaking all at once -- the book is the perfect marriage of Sally Rooney and early Murakami, with a unique insight into marriage, motherhood, and warring cultural expectations that is all Emily Itami's own. Absolutely brilliant." — Kathy Wang, author of Impostor Syndrome
"Fault Lines is full of laugh-out-loud, irreverent humor, as well as heartstoppingly poignant, yet seemingly incidental, wisdom. All of the inner yearnings and tribulations of Mizuki are laid bare, offering one of the fullest, most thorough depictions of a character I have ever read. … Every line here is razor-sharp, chosen with precision, resulting in a deceptively clever, emotionally wise and truly heartbreaking novel." — Bookreporter.com
"Brilliant." — Booklist
"Funny and tender." — Bustle
"A brilliant modern love story. I found it atmospheric and transporting but also wise, clever, and universal in its exploration of love, family, and identity. I loved it." — Cathy Rentzenbrink, Sunday Times bestselling author of The Last Act of Love
"An addictive and beautiful novel with a fantastic voice, full of wry humor and sharp observations. It's funny and tragic, passionate and bold, and I know I'll be thinking about it for a long time to come." — Kate Murray-Browne, author of The Upstairs Room
"Dazzling." — Popsugar
"This delicate and beautiful love story will fill your heart. … Short, emotional and very funny, Emily Itami's debut is an unmissable treat for romantics everywhere." — Stylist (UK)