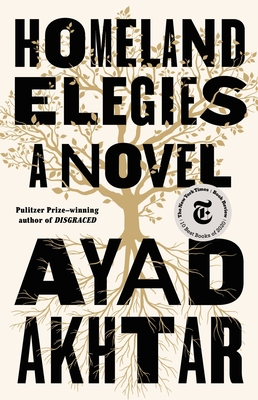 Homeland Elegies: A Novel
Publication Date:
September 15th, 2020
Publisher:
Little, Brown and Company
A masterful blend of memoir and fiction, this is an unforgettable journey through the lives of a Muslim family finding their place in a post-9/11 America. A searing navigation of the loves we try to reconcile — familial, religious, societal — and the definition of home. Written with wisdom, wit, and unsparing honesty, this an important book that you will continue to contemplate for a very long time. Both intimate and epic, this is a must-read.
September 2020 Indie Next List
Description
This "beautiful novel . . . has echoes of The Great Gatsby": an immigrant father and his son search for belonging—in post-Trump America, and with each other (Dwight Garner, New York Times).
One of the New York Times 10 Best Books of the Year 
One of Barack Obama's Favorite Books of 2020
A Best Book of 2020 * Entertainment Weekly * Washington Post * O Magazine * New York Times Book Review * Publishers Weekly * NPR * The Economist * Shelf Awareness * Library Journal * St. Louis Post-Dispatch * Slate
Finalist for the 2021 Andrew Carnegie Medal for Excellence in Fiction
A deeply personal work about identity and belonging in a nation coming apart at the seams, Homeland Elegies blends fact and fiction to tell an epic story of longing and dispossession in the world that 9/11 made. Part family drama, part social essay, part picaresque novel, at its heart it is the story of a father, a son, and the country they both call home.
Pulitzer Prize-winning author Ayad Akhtar forges a new narrative voice to capture a country in which debt has ruined countless lives and the gods of finance rule, where immigrants live in fear, and where the nation's unhealed wounds wreak havoc around the world. Akhtar attempts to make sense of it all through the lens of a story about one family, from a heartland town in America to palatial suites in Central Europe to guerrilla lookouts in the mountains of Afghanistan, and spares no one—least of all himself—in the process.
"Passionate, disturbing, unputdownable." —Salman Rushdie
Praise for Homeland Elegies: A Novel
"Tour de force . . . a poetic confession of the agony of trying to articulate a nuanced critique of faith and politics in an age of shrieking partisanship."—Ron Charles, Washington Post
"An immigrant saga unlike any other . . . singular in its richness, inventiveness, and braininess and the fiery candor with which Akhtar chars nearly every sentence. . . . For me, this is the book of the year."—Junot Diaz, O Magazine
"A beautiful novel about an American son and his immigrant father that has echoes of The Great Gatsby and that circles, with pointed intellect, the possibilities and limitations of American life.... Homeland Elegies is a very American novel. It's a lover's quarrel with this country, and . . . it has candor and seriousness to burn."—Dwight Garner, New York Times
"Dazzling . . . a deeply personal examination of the American dream."—Entertainment Weekly
"[A] moving and confrontational novel . . .  Homeland Elegies deals in ambiguities that were beyond the pale of public discourse in the years after 9/11. . . . He has an unerring sense for the sore spots, the bitter truths that have emerged from this history."—Hari Kunzru, New York Times Book Review
"Masterful.... A symphony about America.... [Akhtar's] intellectual explorations of identity and self-presentation are coupled with deep emotional urgency.... With its insight and honesty, Homeland Elegies deserves to be read widely."—USA Today
"Incisive and masterful."—Rafia Zakaria, Boston Globe
"Gripping ... [a] fine and deeply moving piece of writing."—Chris Jones, Chicago Tribune
"Akhtar deftly weaves politics, family, friendship, capitalism, work and the eternal existential crisis of being American into a tapestry of form that includes essay, lyric passages and dialogue in its pattern (which, like America, is somewhat chaotic). . . .  'Ever the artist,' Akhtar writes, 'I trusted the mess.' And thank goodness he did."—Sarah Neilson, San Francisco Chronicle
"Scintillating ... Akhtar is an intrepid narrator."—Anjali Enjeti, Minneapolis Star-Tribune
"Outstanding.... [A] courageous and timely novel, deftly interweaving fact and fiction, memoir and history.... It's hard to convey the breadth and brilliance of this work."—The Guardian
"Monumental . . . a globe-trotting tragicomedy."—Elle.com
"A family drama that spans the globe and asks big, unsettling questions about identity, patriotism, and the quest to belong."—Town & Country
"This tragicomedy is a revelation."—Publishers Weekly
"A searing work .  . . profound and provocative."—Kirkus Reviews
"Achingly intimate . . . The personal is political in this beautiful, intense elegy for an America that often goes awry while still offering hope."—Library Journal
"Akhtar confronts issues of race, money, family, politics, and sexuality in a bold, memoiristic tale . . . with an array of fascinating characters with different insights into the American character"—Booklist
"An unflinchingly honest self-portrait by a brilliant Muslim-American writer, and, beyond that, an unsparing examination of both sides of that fraught hyphenated reality. Passionate, disturbing, unputdownable."—Salman Rushdie, author of Quichotte
"An urgent, intimate hybrid of memoir and fiction, Homeland Elegies lays bare the broken heart of our American dream turned reality TV nightmare. The book…brilliantly captures how we got to this exact moment in time and at what cost. Stunning."—A. M. Homes, author of This Book Will Save Your Life and Days of Awe
"At the core of this flashing, kinetic coil of a story -- part 1001 Nights, part Reality TV -- is a passionate, wrenching portrayal of Americans exiled into 'otherness'."—Jennifer Egan, author of Manhattan Beach and A Visit From the Goon Squad
"With Homeland Elegies, Ayad Akhtar has found the perfect hybrid form for his exuberant, insightful, and wickedly entertaining epic about Muslim immigrants and their American-born children. A deeply moving father-and-son story unfolds against tumultuous current events in a book that anyone wanting to know how we as a nation got where we are today -- and into what dark wood we might be heading tomorrow -- should read."—Sigrid Nunez, author of The Friend
"Homeland Elegies is the astonishing work of an absolutely brilliant writer. With exquisite prose and lacerating honesty, Ayad Akhtar reveals the intersections of art, finance, race, religion, academia, and empire, and in the process, shows us a troubled reflection of our country in the twenty-first century."—Phil Klay, author of Redeployment
"A triumph. Akhtar rages, he sings, he indicts, he falls in love, he sorrows, he dreams, he mourns, he transcribes!-and finally, he transmutes injustice into the sublimest art."—Joshua Ferris, author of The Dinner Party
"Ayad Akhtar offers up his heart and life with an honesty that astonishes. Never have I experienced such a reading thrill. I put down this novel trembling at the courage it took to write it, and determined to be a better American for having read it."—Maria Semple, author of Where'd You Go, Bernadette
"Homeland Elegies is urgent, lacerating writing of the first order from one of our finest playwrights. A sensation of a book."—Suketu Mehta, author of This Land Is Our Land: An Immigrant's Manifesto
"A novel as brave as it is brilliant, as exciting as it is disturbing. This book captures our American moment with a power and depth that left me thrilled and shaken. One of our greatest playwrights establishes himself as a great novelist."—Oskar Eustis, Artistic Director of The Public Theater
"Homeland Elegies is a beautifully written and unflinching meditation on the American "Dream," in a moment of Islamophobia, economic crisis, and the unmasking of national rot the Trump years have given us. Playful, daring, unapologetically smart, rejecting the constricting frames within which Muslim-American writing and art are often presented, the novel exposes debt peonage and racial othering as fundaments of our national condition with ruthless clarity."—Sadia Abbas, author of At Freedom's Limit and The Empty Room
"This book has the drama and fury and fizz of Real Housewives crossed with the timeless lament of The Great Gatsby. I read it in a fever, swept up in the kind of rapture you fall into when your most audacious friend kicks off on a hilarious, outrageous, but deeply sincere rant."
 —Torrey Peters, The Guardian