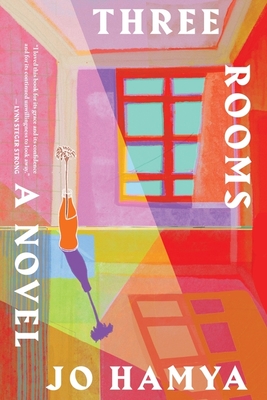 Three Rooms
Publication Date:
August 31st, 2021
Description
A piercing howl of a novel and "a tart pleasure...with echoes of Zadie Smith and Sally Rooney," about one young woman's endless quest for an apartment of her own and the aspirations and challenges faced by the Millennial generation as it finds its footing in the world, from a shockingly talented debut author (Kirkus, starred review).
"A woman must have money and a room of one's own." So said Virginia Woolf in her classic A Room of One's Own, but in this scrupulously observed, gorgeously wrought debut novel, Jo Hamya pushes that adage powerfully into the twenty-first century, to a generation of people living in rented rooms. What a woman needs now is an apartment of her own, the ultimate mark of financial stability, unattainable for many.
Set in one year, Three Rooms follows a young woman as she moves from a rented room at Oxford, where she's working as a research assistant; to a stranger's sofa, all she can afford as a copyediting temp at a society magazine; to her childhood home, where she's been forced to return, jobless, even a room of her own out of reach. As politics shift to nationalism, the streets fill with protestors, and news drip-feeds into her phone, she struggles to live a meaningful life on her own terms, unsure if she'll ever be able to afford to do so.
Praise for Three Rooms
Praise for Three Rooms A Most Anticipated Book of the Year from Lit Hub and The Millions  A Publishers Weekly Fall Writer to Watch   A Most Anticipated Book of the Summer from Hey Alma and iNews  A Best Book of August from Ms. Magazine and Nylon   "Three Rooms...compresses the noise of contemporary life into a record of recent events: Grenfell Tower, Boris Johnson, Brexit. But personal and everyday occurrences take up equal space in the narrator's consciousness, and are precisely and beautifully rendered...Three Rooms invokes the reality of living in a world where a reasonable demand is resolutely categorized as unreasonable."—New York Times Book Review   "[Hamya's] intelligence and stylistic restraint make this snapshot of England all the more damning."—Wall Street Journal  "An excellent evisceration of contemporary life."—Boston Globe   "Hamya is brilliant at invoking the milieu in which young adults move."—Minneapolis Star-Tribune   "I was bowled over by this barbed, supple book about precarity and power, both for its spiky, unsettling intelligence and the frank beauty of the writing." —Olivia Laing, author of The Lonely City and Everybody   "Jo Hamya is an exceptionally gifted writer. Her portrait of a bright young woman struggling to get a foothold in an indifferent world is acute, informed, and deeply felt. Three Rooms slowly but surely broke my heart." —Claire-Louise Bennett, author of Pond   "Virginia Woolf said a woman must have a room of one's own, but Jo Hamya's debut novel looks at what happens when that's just economically not feasible...[A] Millennial novel about everything that's trying to underpin our sense of security." —Nylon   "A sharp statement on Millennial disenfranchisement and poverty." —Ms. Magazine   "Ultra-contemporary...Hamya's observations are biting and truthful...This is a novel about precarious housing, precarious work and precarious mental health: all things that are connected...A polemical novel, in a tradition of women writing about the cost of freedom that includes Woolf and leads to novelists such as Deborah Levy and Rachel Cusk. But the book also belongs to a new genre of socially realist writing about millennial poverty and what that does to women's ambitions (see Raven Leilani's Luster, Lily King's Writers and Lovers, and, most recently, Anna Glendenning's An Experiment in Leisure)...[Hamya] is astute at portraying a new young precariat, rich in culture and education, but poor in housing and job opportunities...This is a novel in which disaffection feels real—and, at the novel's end, the wraith-like heroine finds a heartstoppingly dramatic expression of her distress." —Guardian   "Sophisticated, spiky...Strikingly thoughtful...A phenomenal achievement. Perfectly judged set pieces at parties, offices and art galleries are infused with the illuminating and inquiring mind of an author who watches our society with an unflinching x-ray eye and tells its stories back to us with elegance and wit. And that, surely, is the mark of an excellent writer."