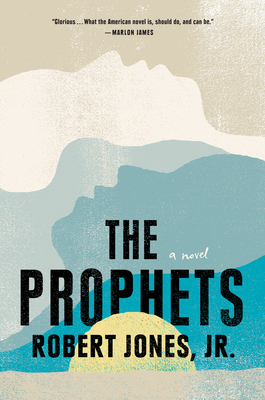 The Prophets
Publication Date:
January 5th, 2021
Publisher:
G.P. Putnam's Sons
Fine Print Bookshop
1 on hand, as of Dec 4 8:47am
On Our Shelves Now
I am at a loss for words. How can I even begin to describe the breathtaking language Robert Jones, Jr. has gifted us in his debut novel, The Prophets? How can I begin to explain how he achieves a feat so marvelous it almost seems impossible? Well, that's the key word: almost. From his innovative restructuring of the Bible through the lens of America's history with slavery to characters that leap off the page with colorful grace and dignity, Jones masterfully weaves a narrative that serves as a warning from the past, a prophecy for the future, and a testament to the present. His writing defies all great American novels that have come before, and in doing so becomes one of the greatest I've ever had the pleasure of reading. I can't wait for everyone to be as spellbound by this book as I am; it will stay with me forever.
January 2021 Indie Next List
Description
Best Book of the Year
NPR • The Washington Post • Boston Globe • TIME • USA Today • Entertainment Weekly • Real Simple • Parade • Buzzfeed • Electric Literature • LitHub • BookRiot • PopSugar • Goop • Library Journal • BookBub • KCRW
• Finalist for the National Book Award
• One of the New York Times Notable Books of the Year
• One of the New York Times Best Historical Fiction of the Year
• Instant New York Times Bestseller 

A singular and stunning debut novel about the forbidden union between two enslaved young men on a Deep South plantation, the refuge they find in each other, and a betrayal that threatens their existence.
Isaiah was Samuel's and Samuel was Isaiah's. That was the way it was since the beginning, and the way it was to be until the end. In the barn they tended to the animals, but also to each other, transforming the hollowed-out shed into a place of human refuge, a source of intimacy and hope in a world ruled by vicious masters. But when an older man—a fellow slave—seeks to gain favor by preaching the master's gospel on the plantation, the enslaved begin to turn on their own. Isaiah and Samuel's love, which was once so simple, is seen as sinful and a clear danger to the plantation's harmony.
With a lyricism reminiscent of Toni Morrison, Robert Jones, Jr., fiercely summons the voices of slaver and enslaved alike, from Isaiah and Samuel to the calculating slave master to the long line of women that surround them, women who have carried the soul of the plantation on their shoulders. As tensions build and the weight of centuries—of ancestors and future generations to come—culminates in a climactic reckoning, The Prophets fearlessly reveals the pain and suffering of inheritance, but is also shot through with hope, beauty, and truth, portraying the enormous, heroic power of love.
Praise for The Prophets
Winner of the Publishing Triangle's Edmund White Award
Finalist for the Ernest J. Gaines Award For Literary Excellence
Finalist for the Crook's Corner Book Prize
Finalist for the Prix Médicis Etrange
Finalist for the Chautauqua Prize
Longlisted for The Center for Fiction First Novel Prize
Longlisted for the Mark Twain American Voice in Literature Award
#1 Indie Next Pick 
One of: 
The New York Times Book Review's Books to Watch for in January 
The Washington Post's 10 Books to Read in January
TIME's 10 New Books You Should Read in January
O, the Oprah Magazine's 32 LGBTQ Books That Will Change the Literary Landscape in 2021
Cosmopolitan's New LGBTQ+ Books to Add to Your Reading List
Entertainment Weekly's 14 Books to Read During Black History Month
Good Morning America's Best Books to Read this January 
Marie Claire's Must-Read 2021 Book Releases by Black Authors 
CNN's Best Books of January
NBC News' 10 Best Fiction Books by Black Authors in 2021
Harper's Bazaar's Winter's Best New Releases
Reader's Digest's Most Anticipated Books of 2021
BuzzFeed's Most Anticipated Historical Fiction of 2021
Lit Hub's Most Anticipated Books of 2021
Electric Literature's Most Anticipated Debuts of 2021
The Millions' Most Anticipated Books of 2021
Thrillist's 30 Books We Can't Wait to Read in 2021
Spy's Best and Most Anticipated Books of 2021
Read It Forward's Favorite Reads of January 2021
The Root's Most Anticipated Books by Black Authors in 2021
The Advocate's Most Anticipated LGBTQ+ Books of 2021
St. Louis Magazine's Must-Read Books of 2021
Debutiful's Best Debuts of January
Lambda Literary's Most Anticipated LGBTQ Books of January 
LGBTQ Read's Most Anticipated LGBTQIAP Fiction of 2021 Picks
Kirkus Reviews' Most Anticipated Books of the Fall
TheBody's 5 Essential Summer Reads by Queer Authors
TheGrio's Top 50 Books to Read This Summer
Vibe's 15 Best Fictional Books by Black Authors
CNN.com's Essential Reading for Pride Month
The New York Times Style Magazine's 25 Most Influential Works of Postwar Queer Literature
"Beautifully written." —Isabel Allende, Elle
"An extraordinary, vivid novel written with heart and imagination....The Prophets really dazzles." –NPR, Weekend Edition

"[An] often lyrical and rebellious love story...Jones seems to be reaching across centuries of blood and memory in an attempt to shake awake a warrior armed with weapon and wit that lies sleeping in his imagined, beloved, Black reader....Jones proves himself an amazing lyricist, pulling poetry out of every image and shift of light....What a fiery kindness that ending, this book. A book I entered hesitantly, cautiously, I exited anew—something in me unloosed, running. May this book cast its spell on all of us, restore to us some memory of our most warrior and softest selves." –The New York Times Book Review
"A lyrical and rebellious love story." –The New York Times Book Review (Editors' Choice)

"With this epic novel, Jones, who is known for his blogging and Twitter presence as Son of Baldwin, marks his entry into the literary arena....The greatest gift of this novel is its efforts to render emotional interiority to enslaved people who are too often depicted either as vessels for sadistic violence or as noble, superhuman warriors for liberation....Jones's debut novel is an important contribution to American letters, Black queer studies and the present moment's profound reckoning with the legacy of America's racialized violence." –The Washington Post

"A stunning debut novel . . . Jones, Jr.'s writing hearkens to the lyricism of Toni Morrison, evoking pain and suffering as well as truth and love." —San Francisco Bay Times

"Extraordinary. . . . [A] defiantly poetic story of great love growing in a place of hate. . . . Jones handles the multiple moving parts and perspectives masterfully — joy and beauty juxtaposed against pain to devastating effect. Truly, this book gutted me and I was grateful for it."—BookRiot
"The Prophets, Jones' debut novel, is a marvel, as much an extraordinary queer love story as a devastating and inimitable portrayal of the agony endured by slaves in the antebellum South. Jones' stunning storytelling crafts deep and powerful portraits....Each chapter is its own work of art, delving deep into each character's heart and mind and creating a rhythmic tapestry of profound love and unbearable pain....The Prophets is a novel, but feels almost like poetry, with every word holding a weight and power that will continue to astound those who lose themselves in its pages." –Associated Press
"Along comes Robert Jones, Jr., who taps into his brilliant dome to unearth an engrossing and magically written debut novel....The Prophets is packed with otherworldly, and supremely artful storytelling, and readers will surely get lost in a radiant romance. But most important, Jones adds to the growing body of literature that reimagines slavery—Colson Whitehead's The Underground Railroad, Ta-Nehisi Coates' The Water Dancer—and to queer theory, in which Jones' predecessor James Baldwin shed light on, disrupted and intersected with race." –USA Today

"[A] tender and passionate story of queer Black love, told with a lyricism that justifies the many comparisons to Toni Morrison he has received." —TIME
"Robert Jones, Jr.'s debut novel The Prophets feels like it might be a classic one day....Illuminates Black experience by using effortless and artful entry into multiple consciousnesses, biblical allusion and supernatural elements....Audre Lorde wrote 'Unless one lives and loves in the trenches, it is difficult to remember that the war against dehumanization is ceaseless.' An ambitious debut, The Prophets is right there in the trenches, firing shots." ­–San Francisco Chronicle 

"A striking debut…Exceptional storytelling…There is no minor character in The Prophets, which delivers a dazzling gallery of unforgettable portraits....And by highlighting lives over plantation life—the humanity of the slaves over the inhumanity of slavery—the narrative remains centered on a Blackness with an imagination that doesn't need whiteness in order to exist, breathe or even be free." —Los Angeles Times
"[A] panoramic vision of love and cruelty…An unsparing portrayal of a barbaric system." –The New Yorker
"In his powerful debut novel, The Prophets, Robert Jones, Jr. depicts in exquisite, often excruciating detail the social ruination that slavery brought to the antebellum South...Jones takes a discursive approach, lacing his main story with chapters inspired by the Bible (mainly the Old Testament) or fueled by incantatory tales from pre-colonial Africa....Allow them to cast their spell. Together they bring historical sweep, magic and leavening flights of lyricism to the blood, sweat and tears of an earthbound world....Labeling The Prophets a 'gay slave story' fails to fully describe its ambition and imaginative richness. Jones' astounding achievement is to open a world where love somehow dares to speak its name alongside our greatest national shame." –Minneapolis Star Tribune

"Jones, and his stunner of a novel, embody what can only be called art....Lush language artistry characterizes the book from beginning to end, even as it nimbly changes perspective in every chapter....As the story layers itself and picks up to a devastating pace toward the end, it bursts forth in a crack of lightning and the reader is left aflame. The Prophets is an astounding book, at once potent and universe-level expansive, a sky unto itself. With it—and with his work at Son of Baldwin—Jones establishes himself as a writer, thinker and creative force to watch." –The Seattle Times

"A sprawling epic centered on the tortured love story of two enslaved Black men on a brutal Southern plantation, The Prophets transcends all preconceived notions of historical fiction, shining a new light on America's past as it explores notions of community, oppression, and freedom, as well as the inextricable bonds of love, family and hope." –The Root
"[A] bewitching literary debut…Jones' strength lies in his ability to build interior worlds so imaginative and lush that it would be dreamy if it weren't such a nightmare for the enslaved people tethered to it....[An] important new work and an integral addition to this period's literary canon alongside works such as Charles R. Johnson's Middle Passage and Marlon James' The Book of Night Women." –Atlanta Journal Constitution
"An incredible read...A masterpiece." –New York Magazine
"Powerful…This beautifully written story is heartbreaking and inspiring all at once." –CNN
"Pick up The Prophets by Robert Jones, Jr. for the exceptional writing. Stay for the tale of a forbidden love between two enslaved young men on a Mississippi plantation and the betrayal that threatens their existence." –Parade
"It's impossible to write about the literary world's queerest and dearest of the year without including this Baldwin-inflected debut novel about two enslaved young men in love….[A] deeply moving novel about suffering, hope, and love." –Harper's Bazaar
"A polyphonic novel, with exactingly rendered characters, about the love between two men enslaved on a Mississippi plantation." –Vanity Fair

"In The Prophets, Jones takes readers back to a time in history when being Black and queer was unspeakable, and those who dared to love and be loved were true activists....Poetic." –Elle
"A devastating and beautifully written novel." –Marie Claire
"A brutal and beautiful love story between two enslaved men on a Mississippi plantation, a tale of rage and grace, of refuge among the ruins." –O, the Oprah Magazine
"A love story of the most tragic proportions, revered writer Robert Jones, Jr. uses his debut novel to pry open our collective hearts." –Entertainment Weekly

"In this powerful novel about a Deep South plantation, enslaved Isaiah and Samuel share a private, abiding love that's a refuge from the daily brutality they endure—and that has consequences for everyone around them. The Prophets by Robert Jones Jr. is an original, heartbreaking testament to love, and to the supremacy of good over evil." –Real Simple
 
"[A] dazzling debut . . . A haunting and beautiful historical novel about Black queer love and the dangerous repercussions of claiming and relishing in that love." –Interview Magazine
 "The book proves love's power and the deeply felt dejected history of the country." –San Francisco Magazine
"[A] magnificent story of love thriving despite the heavy backdrop of slavery." –Business Insider
"This beautifully written debut novel—and likely award magnet—is a love story about two enslaved men, Isaiah and Samuel, whose devotion to each other leads to trouble on a brutally run Mississippi plantation." –AARP
"Poised to become one of the most memorable books of the year: The Prophets is a stunning love story about two young men, Samuel and Isaiah, who are enslaved on an antebellum plantation in Mississippi....An extraordinary debut novel." –Goop

"An expansive and lyrical novel." –NBC Out
 
"Equal parts profound, poetic and revelatory." –NBC BLK
"This tender and surprising love story set against a plantation in Mississippi, The Prophets is Robert Jones, Jr.'s highly anticipated debut novel that everyone will be talking about this winter. A creative mind to watch rise and soar." –Garden & Gun
"The Prophets chronicles much cruelty and misery and violence, as is inevitable in a book about slavery. But it's not really a pessimistic book. Rather, the novel itself functions as an act of love and resistance, by expressing solidarity with those who love despite sanctions and oppression. Patriarchy and white supremacy insist on rigid roles for Black and white, male and female. The Prophets imagines a different past, and a different future." –The Observer
"It is not hyperbole to say that The Prophets, which explores black queer lives on a Mississippi plantation known among the enslaved as 'Empty,' evokes the best of Toni Morrison, while being its own distinct and virtuosic work....This, then, is a novel wedded to its period but also of our times, exploring the pressing questions that have plagued America since its founding. It manages to be many things at once, stirring both the heart and the intellect in an exploration of human desire and depravity. A trenchant study of character, it is refreshing in its portrayal of the daily negotiations of humanity under slavery, practiced by both the enslaved and the enslavers. It is an ode to an enduring love." –The Guardian
"[An] extraordinary novel." –Diane Rehm
"Jones skillfully brings us to a deep place of imagining and uncovers a discarded memory of two young men in love that transcends time. And Jones uses every ounce of his craft to telegraph the hope of the imagined and the depth of the loss....This novel is sophisticatedly constructed; it offers deep introspections and projections onto the screen of the modern world....The Prophets is a bold leap forward that will make new literature possible in its wake." –Sarah Schulman, Lambda Literary 

"It requires great deftness to place a gay couple at the center of a story set in a time when the very words for their relationship had not yet been invented. Jones wisely takes a discursive approach, interlacing his main story with chapters inspired by the Bible [or] fueled by incantatory tales from pre-colonial Africa….Allow them to cast their spell. Together they bring historical sweep, magic, and flights of lyricism to the earthbound world." –Gay & Lesbian Review
"The Prophets is the kind of book for which one reading will not suffice. To understand it fully, you must return to its pages again. It is elusive in the best kind of way, written in a style that evokes—but does not mimic—Toni Morrison's otherworldly poetic prose, where every word is heavy with meaning." –Shondaland
"At times dreamlike, at times horrifyingly realistic, this is a novel that stays with you for a long time." –Deep South Magazine
"The Prophets heralds the arrival of a monumental talent in Robert Jones, Jr., whose debut novel has the vibrating power of a thunder clap and the tender intimacy of a secret whispered by a loved one in the darkest night....Though Jones, Jr. is unflinching in his portrayal of the evils of white supremacy and fanaticism, he threads his novels with shimmering strands of hope, of heroism, and of reminders of how humanity has persevered even in the most inhumane of times." –Refinery29
"A beautifully written narrative that explores gender and race from several characters' points of view, The Prophets invites readers to reconsider their understanding of sexuality and reconnect with our shared humanity." –PopSugar
"Told with a lyricism that echoes Toni Morrison, Robert Jones, Jr. has crafted a subtle masterpiece that will leave you mesmerized for days afterward. Enjoy one of the best books of 2021 has to offer." –Spy
"The Prophets reaches for humanity during the most inhumane moment of American history through the place of refuge the two men find in each other." –Thrillist
"[Jones] richly renders the perspectives of the enslaved and their enslavers, allowing for a complexity that a story with a single point of view would miss. The novel contains multitudes, among them a love story, an epic, an origin story, and a spiritual journey. This formidable debut weaves the ancestral past with the characters' present to illuminate histories, realities, and possibilities that are just beyond reach....[A] testament to Black queer love and storytelling." –Sojourners Magazine
 
"The Prophets is lyrical prose about the dimensionality and interiority of people." –KCRW, The Bookworm
"This book, with its tender intimacy, its empathetic rendering of complex humanity, its gut-wrenching portrayals of crimes against humanity, its moving love story, will not disappoint." –Lit Hub
"Jones excavates the tangled histories of race and gender which mark a profoundly resonant narrative." –The Millions
"Jones explores queerness through a new lens that has rarely been explored in literature. The Prophets is one of the most powerful Black queer historical novels ever written." –Electric Literature
"A lyrical historical novel." –BookRiot

"It's the gravitational force of [Jones'] prose — lyrical, alarmingly clear, with the ability to evoke moments intimate or grand in scale — that sets his work apart." –Vox.com
"This poetic novel is a must-read story of hope." –Booktrib
"A heartbreaking love story set amongst the bleakest of landscapes." –Bookstr
"One of the most original, imaginative novels I'll ever read and a balm for all of us Black queer folx who have been long denied, and long deprived, of their love. Robert Jones, Jr. is an author of noble skill and lineage—Baldwin's heir has arrived, indeed." –Paperback Paris
"This dazzling debut from Robert Jones, Jr., creator of the social justice community The Son of Baldwin, is as captivating as it is brutal. There are passages that will make readers cringe in horror, it's true, but one can do no less when looking back at the monstrous period of American slavery. There are also scenes of immense beauty that inspire awe for the strength of the human spirit....The Prophets is a stark reminder of a horrific past, but also looks to the future with hope. Jones shapes the narrative with a deft and evocative lyricism and introduces characters that are multi-layered and pulsing with human vulnerability. That is sure to guarantee The Prophets a place among the literary greats." –Shelf Awareness
"Kaleidoscopic…Anchored by the love story of two young men, this lyrical story evokes a vast spectrum of emotion and creates an epic that feels epic in scope, but also like each chapter is its own private universe." –Northern Virginia Magazine
"An epic tale of Black queerness…With The Prophets, it is clear [Jones] is following in James Baldwin's literary footsteps….Magnificent." –Hey Alma
"[An] ambitious debut…Jones weaves the tale skillfully, alternating points of view among Black, white, and mixed-race voices, and building the action to a stunning climax." –Historical Novel Society
"Powerful and beautiful…The lyricism of The Prophets will recall the prose of James Baldwin. The strong cadences are equal to those in Faulkner's Light in August. Sometimes the utterances in the short interpolated chapters seem as orphic as those in Thus Spake Zarathustra. If my comparisons seem excessive, they are rivaled only by Jones's own pages and pages of acknowledgments. It seems it takes a village to make a masterpiece." –Publishers Weekly (starred Signature review by Edmund White)
"Robert Jones Jr.'s remarkable first novel, The Prophets, accomplishes the exceptional literary feat of being at once an intimate, poetic love story and a sweeping, detailed and excruciating portrait of life on a Mississippi plantation....Though this is his first book, Jones is already a master stylist, writing gorgeous, lyrical and readable prose about some of the ugliest things that human beings feel and do to one another. Sometimes the prose reads like scripture. At other times, it's poetry…[A] beautifully wrought, exceptionally accomplished queer love story about two men finding extraordinary connection in the most hostile and difficult of circumstances. This debut will be savored and remembered." –BookPage (starred review)
"Brims with so much confidence and artful flourish that it's hard to believe it's Jones's first book. Following a line of esteemed authors, he explores the story of enslavement in America and makes it his own….Jones's expertly drawn characters have depth and purpose, and the writing is beautiful despite the subject matter. A work that will resonate with those moved by Charles Johnson's Middle Passage and Colson Whitehead's The Underground Railroad." –Library Journal (starred review)
"Exquisite...Jones conveys powerful truths with well-chosen words in spare prose....A masterfully told story that will haunt readres from beginning to end." –Booklist (starred review) 

"An ambitious, imaginative, and important tale of Black queerness through history." –Kirkus Reviews
"Spectacular. . . An intimate, poetic, queer love story and a detailed and excruciating portrait of life on a Mississippi plantation. Jones excels at ensemble storytelling, treating each character with compassion while also being brutally unsparing about the system they're living under and the harmful compromises people living under this system sometimes made to survive."—TheGrio
"How devastating and glorious this is. Epic in its scale, intimate in its force, and lyrical in its beauty. The Prophets shakes right down to the bone what the American novel is, should do, and can be. That shuffling sound you hear is Morrison, Baldwin, and Angelou whooping and hollering both in pride, and wonder." –Marlon James, author of Black Leopard, Red Wolf
"What a rare marvel this book is. The Prophets fashions an epic so rich in erudition, wisdom, clarity, and power, so full of hard-earned yet too-brief joys, that it reaffirms for me literature's place as both balm and scalpel for the mind and soul. You can feel the decades of thinking embedded not only in these sentences but in how they question and build a world shamefully amputated from textbooks. Rarely is a book this finely wrought, the lives and histories it holds so tenderly felt, and rendered unforgettably true." –Ocean Vuong, author of On Earth We're Briefly Gorgeous
"The Prophets is easily the most superb tutorial in writing and loving I have ever read. I'm convinced Morrison, Baldwin, and Bambara sat around sipping wine one night, talking about the day we'd read an offering like The Prophets. Robert Jones, Jr., is a once-in-a-generation cultural worker whose art thankfully will be imitated for generations." –Kiese Laymon, author of Heavy: An American Memoir
"I've loved the writing of Robert Jones, Jr., for years, and The Prophets is an absolute triumph, a symphonic evocation of the heights and depths of pain, joy, and love." –R.O. Kwon, author of The Incendiaries
"In The Prophets, Robert Jones, Jr.'s lens is at once epic and microscopic, equally capable of evoking historical crises and interpersonal ones. Painfully harsh and painfully tender, this inventive, kaleidoscopic love story is a marvel." –Helen Phillips, author of The Need