Discounted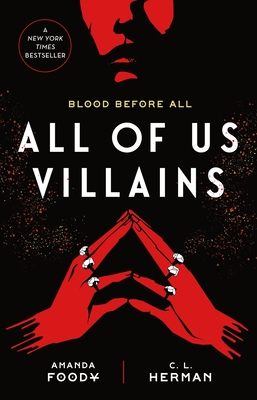 All of Us Villains
Previous price:

$22.99
Current price:

$18.99
Publication Date:
November 9th, 2021
Usually Arrives Within 7-10 Days
If one of the victors of the Hunger Games published a tell-all book, the result would be All of Us Villains! Shocking and enthralling, unique and suspenseful, All of Us Villains is the best kind of wild ride, and I am eagerly anticipating the sequel!
November/December 2021 Kids Indie Next List
Description
A NEW YORK TIMES BESTSELLER
An Indie Bestseller!
An Indie Next Pick!
The blockbuster co-writing debut of Amanda Foody and C. L. Herman, All of Us Villains begins a dark tale of ambition and magick...
You Fell in Love with the Victors of the Hunger Games.
Now Prepare to Meet the Villains of the Blood Veil.
The Blood Moon rises. The Blood Veil falls. The Tournament begins.
Every generation, at the coming of the Blood Moon, seven families in the remote city of Ilvernath each name a champion to compete in a tournament to the death.
The prize? Exclusive control over a secret wellspring of high magick, the most powerful resource in the world—one thought long depleted.
But this year a scandalous tell-all book has exposed the tournament and thrust the seven new champions into the worldwide spotlight. The book also granted them valuable information previous champions never had—insight into the other families' strategies, secrets, and weaknesses. And most important, it gave them a choice: accept their fate or rewrite their legacy.
Either way, this is a story that must be penned in blood.
The All of Us Villains Duology:
#1) All of Us Villains
#2) All of Our Demise
Praise for All of Us Villains
A NEW YORK TIMES BESTSELLER
An Indie Bestseller!
An Indie Next Pick!
One of Indigo's Best Teen Books of 2021

"Magical, clever and cutthroat, All of Us Villains sets out to make it impossible to know who to root for.... A fun, twisty ride through a world full of spells and family secrets." —Kendare Blake, #1 New York Times bestselling author of the Three Dark Crowns series
"Nuanced, exceptionally well-drawn characters and a carefully considered mythology." —Publishers Weekly, Starred Review
"So bespelling that the cliffhanger ending will feel like a painful curse." —Kirkus Reviews, Starred Review
"Positively wicked in all the right ways. This series is my new obsession, and I cannot wait to devour the next one. With its innovative magic system, a twisted cast of characters you somehow can't help but love, and a plot that will leave you on the edge of your seat, All of Us Villains is addicting from start to finish. I'm obsessed." —Adalyn Grace, New York Times bestselling author of All the Stars and Teeth
"Foody and Herman's collaboration offers a fun yet brutal tale of sacrifice, betrayal, and ever-shifting loyalties. From twists that'll make you gasp to believably flawed characters you can't help but cheer for and curse in the same breath, this one will keep readers on the edge of their seats." —Tara Sim, author of Scavenge the Stars
"Foody and Herman team up in this duology starter to deliver a fast-paced, morally gray story of ambition and survival. A strong choice for all YA collections." —School Library Journal
"A blood-soaked modern fairytale brimming with magic, spectacle, and unforgettable characters." —Katy Rose Pool, author of There Will Come A Darkness
"Foody and Herman enchant with vicious battles, a fun magic system and intricate, tenacious characters with deadly charm." —Shelf Awareness
"Dark, luscious, and brutally smart, All of Us Villains is a fresh but unforgiving look at the legacy of abusive families and community-sanctioned violence. Foody and Herman have created a thrilling story that is impossible to put down; I stayed up all night to finish this book." —Victoria Lee, author of A Lesson in Vengeance and The Fever King

"Both glittering with magic and drenched in blood, All of Us Villains kept me up at night with its heart-pounding pace and layered mysteries. I'll be waiting for Book Two with bated breath and bitten nails." —Sara Holland, New York Times bestselling author of Everless