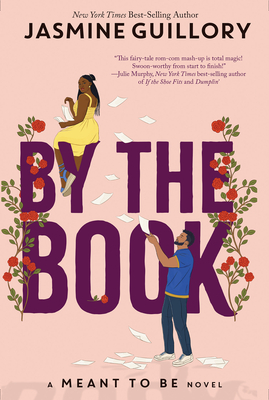 By the Book-A Meant To Be Novel
Publication Date:
May 3rd, 2022
Publisher:
Hyperion Avenue
Usually Arrives Within 7-10 Days
Praise for By the Book-A Meant To Be Novel
Accolades
USA Today Bestseller
An Amazon Book of the Month
An Amazon Best Book of 2022
An Apple Best Book of 2022
The Root Books We Can't Wait to Read
Bustle Most Anticipated Book
Buzzfeed Best Book
Harper's Bazaar Best Romantic Books of 2022
BY THE BOOK is in my hands and I could not be any more excited to celebrate it! Jasmine is on a short list of my tried and true comfort-read authors. I don't know how she manages to weave such depth into her characters while still making the whole reading experience feel SO GOOD AND NICE but she does, every single time.
—Emily Henry, #1 New York Times bestselling author of PEOPLE WE MEET ON VACATION and BEACH READ<br>
Endearing….A sweet read.
—Kirkus Reviews<br><br>
For anyone who's ever possessed dreams of a literary romantic gesture, this will make you swoon.
—EW
My cheeks hurt from smiling through this delightful book for adults who haven't outgrown fairytales. And speaking of magic, how does Jasmine Guillory keep getting better and better?
—Jodi Picoult, New York Times bestselling author of WISH YOU WERE HERE<br>
Sure, you know what is going to happen and it's a tale as old as time, but that doesn't make it any less fun getting there. Oh, the power of Guillory's storytelling!
—E! Online<br><br>
This book is a delight from start to finish.
—PopSugar.com<br>
This fairytale rom-com mashup is total magic! Swoon-worthy from start to finish!
—Julie Murphy, New York Times best-selling author of IF THE SHOE FITS and DUMPLIN'
You'll be blushing and crushing until the very end.
—TheSkimm<br><br>