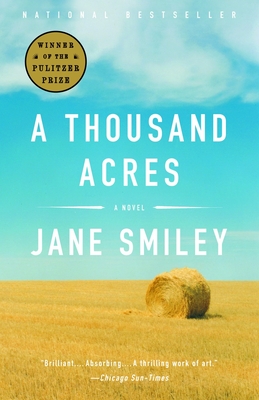 A Thousand Acres: A Novel
Publication Date:
December 2nd, 2003
Usually Arrives Within 7-10 Days
Description
PULITZER PRIZE WINNER • NATIONAL BESTSELLER • A "powerful and poignant" twentieth-century reimagining of Shakespeare's King Lear (The New York Times Book Review) that takes on themes of truth, justice, love, and pride—and centers on a wealthy Iowa farmer who decides to divide his farm between his three daughters. 
When the youngest daughter objects, she is cut out of his will. This sets off a chain of events that brings dark truths to light and explodes long-suppressed emotions. Ambitiously conceived and stunningly written, A Thousand Acres reveals the beautiful yet treacherous topography of humanity.
"A family portrait that is also a near-epic investigation into the broad landscape, the thousand dark acres of the human heart.... The book has all the stark brutality of a Shakespearean tragedy." —The Washington Post Book World
Praise for A Thousand Acres: A Novel
"Brilliant.... Absorbing.... A thrilling work of art." —Chicago Sun-Times
"A family portrait that is also a near-epic investigation into the broad landscape, the thousand dark acres of the human heart....  The book has all the stark brutality of a Shakespearean tragedy." —The Washington Post Book World
"Powerful and poignant." —The New York Times Book Review

"Superb.... There seems to be nothing Smiley can't write about fabulously well." —San Francisco Chronicle
"It has been a long time since a novel so surprised me with its power to haunt.... A Thousand Acres [has] the prismatic quality of the greatest art." —Chicago Tribune
"Absorbing.... Exhilarating.... An engrossing piece of fiction." —Time
"A full, commanding novel.... A story bound and tethered to a lonely road in the Midwest, but drawn from a universal source.... Profoundly American." —The Boston Globe