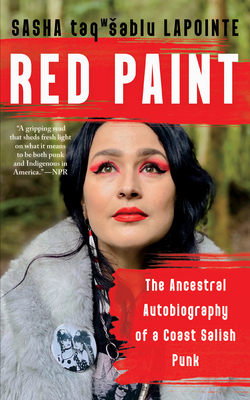 Red Paint: The Ancestral Autobiography of a Coast Salish Punk
Publication Date:
March 7th, 2023
Usually Arrives Within 7-10 Days
Red Paint is an ode to Indigenous legacy; to the punk-rock scene; to the self; to the legacy of trauma and the power of rebuilding; to the ancestral wisdom of those who have lived before; and to the strength inherent in us.
Spring 2023 Reading Group Indie Next List
Description
Winner of the 2023 Pacific Northwest Book Award
An Indigenous artist blends the aesthetics of punk rock with the traditional spiritual practices of the women in her lineage in this bold, contemporary journey to reclaim her heritage and unleash her power and voice while searching for a permanent home
Sasha taqʷšəblu LaPointe has always longed for a sense of home. When she was a child, her family moved around frequently, often staying in barely habitable church attics and trailers, dangerous places for young Sasha.
With little more to guide her than a passion for the thriving punk scene of the Pacific Northwest and a desire to live up to the responsibility of being the namesake of her beloved great-grandmother—a linguist who helped preserve her Indigenous language of Lushootseed—Sasha throws herself headlong into the world, determined to build a better future for herself and her people.
Set against a backdrop of the breathtaking beauty of Coast Salish ancestral land and imbued with the universal spirit of punk, Red Paint is ultimately a story of the ways we learn to find our true selves while fighting for our right to claim a place of our own.
Examining what it means to be vulnerable in love and in art, Sasha offers up an unblinking reckoning with personal traumas amplified by the collective historical traumas of colonialism and genocide that continue to haunt native peoples. Red Paint is an intersectional autobiography of lineage, resilience, and, above all, the ability to heal.
Praise for Red Paint: The Ancestral Autobiography of a Coast Salish Punk
Winner of the 2023 Pacific Northwest Book Award
A NPR Best Book of the Year
A BookPage Best Nonfiction Book of the Year
A NYLON Must-Read Book of the Month
Named a Most Anticipated Book by NYLON, Bustle, Electric Lit, Ms., BookPage, and The Millions
"When Sasha LaPointe isn't singing in punk bands, she's writing about her life as an Indigenous person of Upper Skagit and Nooksack lineage, which has culminated beautifully in her debut memoir . . . A gripping read that sheds fresh light on what it means to be both punk and Indigenous in America." —Jason Heller, A NPR Best Book of the Year
"Absorbing . . . a worthy tribute to Coast Salish women." —TIME
"Sasha's compelling personal story, the story of her maternal ancestors and the lands they have inhabited are inextricably linked in this memoir. This is essential reading for those of us who now live on what was once, completely, the territory of Coast Salish people." —The Seattle Times
"LaPointe recounts the interconnected stories of her life and the lives of some of her ancestors as Coast Salish women living in different time periods on their ancestral lands. These simultaneous threads capture resilience, trauma, love, healing, and connection . . . Her work is definitely something to be watched." —Sarah Neilson, Shondaland
"The Pacific-Northwest native's story is one of survival . . . LaPointe reckons with a fraught past by weaving together memoir and poetry to create something that feels raw and unfiltered." —Shannon Carlin, Bust
"[A] poetically punk debut memoir about ancestry, loss, colonialism, rebuilding, power, hope and healing." —Karla Strand, Ms.
"A beautiful story about lineage, love, and what it means to reclaim one's life." —Laura Schmitt, Electric Literature
"Set against a backdrop of of the breathtaking beauty of Coast Salish ancestral land and imbued with the universal spirit of punk, Red Paint is ultimately a story of the ways we learn to find our true selves while fighting for our right to claim a place of our own. Examining what it means to be vulnerable in love and in art, Sasha offers up an unblinking reckoning with persona traumas amplified by the collective personal traumas of colonialism and genocide that continue to haunt native peoples. Red Paint is an intersectional autobiography of lineage, resilience, and, above all, the ability to heal." —Shelf Unbound
"Red Paint offers a poetic narrative of trauma and healing through ancestral rites and punk rock, both of which prove to be potent medicine during LaPointe's excavation of family legacy and matrilineal power . . . LaPointe's quest to wear the red paint of her ancestors in the context of her own life as a poet and performer integrates the twin strands, past and present, of this stunning memoir. For LaPointe, restoring the self to health is entwined with restoring Native women's voices that have been erased throughout history. She uses her own luminescent voice to tell their stories, wielding language, words, ritual and community as tools of contemporary and ancestral healing." —Catherine Hollis, Bookpage
"In Red Paint: The Ancestral Autobiography of a Coast Salish Punk, Sasha taqʷšəblu LaPointe delivers a cutting, artful thrashing of settler colonialism and a sensitive exploration of ways of healing and forging space for community and connection through storytelling . . . LaPointe's intimate prose is introspective, raging and funny . . . [She] explores her experiences and familial legacies in a wash of rage, beauty, love and reclamation of strength via storytelling." —Shelf Awareness (starred review)
"Throughout [Red Paint], the author deftly navigates multiple timelines, weaving in and out of family history, personal narrative, and a host of other tangential topics . . . Although the author does not shy away from heartache and sorrow, readers are welcomed on what is ultimately a healing journey that will stick in their memories. An engaging, poetic, educative examination of the search for home and personal and cultural identity." —Kirkus Reviews (starred review)
"[A] stirring debut . . . LaPointe writes in lucid vignettes that alternate between past and present as she reflects on her ancestors, Salish medicine workers who 'faced violence, disease, and genocide' . . . LaPointe's fresh and urgent perspective on Indigenous culture is enthralling." —Publishers Weekly
"Red Paint is an ode to healing and to healers, told by someone who intimately knows both. Steeped in punk music and poetry, it is an ode to indigenous inheritance, and to the work and wisdom necessary to recover from the legacies of trauma. It is the truest kind of love story: one in which every lover is a MacGuffin, propelling its narrator toward the person who matters most—herself." —Melissa Febos, author of Girlhood
"Red Paint is a miraculous book. Sasha LaPointe walks us through the sites of her evisceration while rebuilding a home within her body using sturdy materials: rose quartz, cedar bark, red clay, and the words of her ancestors. With each potent sentence, she shows us what access to power looks like. She shows us how to become whole." —Elissa Washuta, author of White Magic
"As luminous as the morning sun over the fir forests, Red Paint is a story of where strength takes us. Sasha taqwšəblu LaPointe goes looking to the past to help heal from terrible traumas, finding inspiration in her ancestors, the Salish people. This is a book destined to be a classic. Read it." —Rene Denfeld, bestselling author of The Child Finder