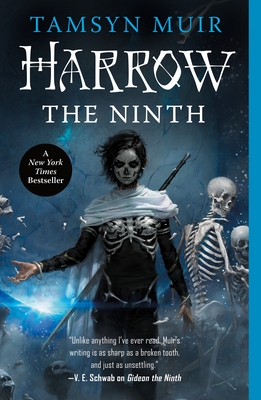 Harrow the Ninth (The Locked Tomb Series #2)
Publication Date:
September 21st, 2021
Fine Print Bookshop
1 on hand, as of Dec 4 8:47am
On Our Shelves Now
Harrow the Ninth is an exceptional second entry in Tamsyn Muir's Locked Tomb trilogy, which has quickly become a cherished series. The necromancy in this world is given even more room to flex its muscles as an integral part of the story. Muir's particular gift with language and her deft humor remain on full display. For all of the questions answered and curiosities resolved, I'm left desperate to know where we are headed next in this journey!
August 2020 Indie Next List
Description
Includes 40+ pages of original content, including a never-before-available Locked Tomb short story.
Harrow the Ninth, the New York Times and USA Today bestselling sequel to Gideon the Ninth, turns a galaxy inside out as one necromancer struggles to survive the wreckage of herself aboard the Emperor's haunted space station.
"Lesbian necromancers explore a haunted gothic palace in space! Decadent nobles vie to serve the deathless emperor! Skeletons!" —Charles Stross on Gideon the Ninth
"Unlike anything I've ever read." —V.E. Schwab on Gideon the Ninth
"Deft, tense and atmospheric, compellingly immersive and wildly original." —The New York Timeson Gideon the Ninth
She answered the Emperor's call.
She arrived with her arts, her wits, and her only friend.
In victory, her world has turned to ash.
After rocking the cosmos with her deathly debut, Tamsyn Muir continues the story of the penumbral Ninth House in Harrow the Ninth, a mind-twisting puzzle box of mystery, murder, magic, and mayhem. Nothing is as it seems in the halls of the Emperor, and the fate of the galaxy rests on one woman's shoulders.
Harrowhark Nonagesimus, last necromancer of the Ninth House, has been drafted by her Emperor to fight an unwinnable war. Side-by-side with a detested rival, Harrow must perfect her skills and become an angel of undeath—but her health is failing, her sword makes her nauseous, and even her mind is threatening to betray her.
Sealed in the gothic gloom of the Emperor's Mithraeum with three unfriendly teachers, hunted by the mad ghost of a murdered planet, Harrow must confront two unwelcome questions: is somebody trying to kill her? And if they succeeded, would the universe be better off?
THE LOCKED TOMB SERIES
BOOK 1: Gideon the Ninth
BOOK 2: Harrow the Ninth
BOOK 3: Nona the Ninth
BOOK 4: Alecto the Ninth
Praise for Harrow the Ninth (The Locked Tomb Series #2)
"To read Harrow the Ninth is to enter a labyrinth haunted by loss and sacrifice and a truly top-tier selection of memes. But don't bother with breadcrumbs or red threads—you won't ever want to leave." —Alix E. Harrow
"Harrow the Ninth is a psychological rollercoaster covering forty billion light-years. It's wonderful to see the universe of Gideon expand, while staying as twisted and full of bones as ever." —Django Wexler
"Maddeningly brilliant." —Kiersten White
"The patient reader will be rewarded tenfold with brilliant original characters and magic, heartbreaking intimacy, laugh out loud humor and the best damn soup in the galaxy." —Rebecca Roanhorse
"Deliciously bonkers, achingly, heartbreakingly twisted and purposefully broken... So beautifully, wildly and precariously weird that I couldn't help sliding through page after page, rolling around blood-drunk in the mess of it all, and waiting, waiting, WAITING to see how Muir would bring it all home." —NPR
"An incredible journey into the chaos of the mind, Muir's latest (after Gideon the Ninth) doubles down on all the wonderfully queer and pulpy moments, body horror, and macabre humor of her debut—and exceeds it." —Library Journal starred review
"This dark, bloody puzzle box of a sequel is a knockout." —Publishers Weekly starred review
"Muir presents a series of enigmas and revels in gory detail before bringing everything to a riveting, no-holds-barred conclusion that will leave readers both satisfied and gnashing their teeth for a finale." —Booklist starred review
PRAISE FOR GIDEON THE NINTH
"Deft, tense and atmospheric, compellingly immersive and wildly original." —The New York Times

"Brilliantly original, messy and weird straight through." —NPR
"You've never read anything like... Gideon The Ninth." —Forbes
"Unlike anything I've ever read." —V.E. Schwab, #1 New York Times Bestselling Author
"From Gideon the Ninth's peerless first line, Gideon Nav is one of the most charismatic narrators I've ever met. I would walk through the bowels of hell with her, and basically have." —Melissa Albert, New York Times Bestselling Author of The Hazel Wood