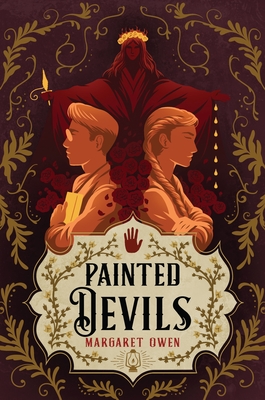 Painted Devils (Little Thieves #2)
Publication Date:
May 16th, 2023
Publisher:
Henry Holt and Co. (BYR)
Usually Arrives Within 7-10 Days
Painted Devilstouches on necessary topics that I wished I'd encountered half so gently and thoughtfully when I was a young reader — especially in a fantasy setting, where Owen masterfully weaves an exciting, witty, and romantic adventure.
May/June 2023 Kids' Indie Next List
Description
A scrappy former maid and jewel thief must outwit gods, injustice, and her own past in this sequel to the Indie Next Pick, Little Thieves by Margaret Owen.
Let's get one thing straight - Vanja Schmidt wasn't trying to start a cult.
After taking down a corrupt margrave, breaking a deadly curse, and finding romance with the vexingly scrupulous junior prefect Emeric Conrad, Vanja had one great mystery left: her long-lost birth family . . . and whether they would welcome a thief. But in her search for an honest trade, she hit trouble and invented a god, the Scarlet Maiden, to scam her way out. Now that lie is growing out of control—especially when Emeric arrives to investigate and the Scarlet Maiden manifests to claim him as a virgin sacrifice.
For his final test to become a prefect, Emeric must determine if Vanja is guilty of serious fraud or if the Scarlet Maiden—and her claim to him—is genuine. Meanwhile, Vanja is chasing an alternative sacrifice that
could be their way out. The hunt leads her not only into the lairs of monsters and the paths of gods, but also the ties of her past. And with what should be the simplest way to save Emeric hanging over their heads,
he and Vanja must face a more dangerous question: Is there a future for a thief and a prefect, and at what price?
From the indie bestselling author Margaret Owen comes the thrilling next installment in the Little Thieves trilogy with all new interior illustrations from the author.
Praise for Painted Devils (Little Thieves #2)
TWO STARRED REVIEWS!
"[M]asterful storytelling. . .Another winding tale of intrigue and adventures that leans heavily on the heart." —Kirkus Reviews, Starred Review
"Owen writes [Vanja's] story with the compassion and wit that will leave readers holding her close." —Booklist, Starred Review
Praise for Little Thieves:
"Gorgeous prose, delicious magic." - V.E. Schwab, bestselling author of The Invisible Life of Addie LaRue
FIVE STARRED REVIEWS FOR LITTLE THIEVES!
"Part heist, part adventure, with a slow-burning romance at its heart...a story to savor."—Publisher's Weekly, Starred Review
"Packed with heists, gods, and monsters...readers will love rooting for Owen's clever antiheroine with ambition....Highly recommended and not to be missed."—School Library Journal, Starred Review
"A lush and lively adventure replete with romance, revenge, and robbery."—Kirkus Reviews, Starred Review
"A breathlessly inventive, never-a-dull-moment adventure of found family and second (or fourth or fifth) chances. If you're not careful, it'll steal your heart, too."—Booklist, Starred Review
"An endlessly entertaining fantasy tale about characters on their worst behavior learning to be their best selves." —BookPage, Starred Review